Prices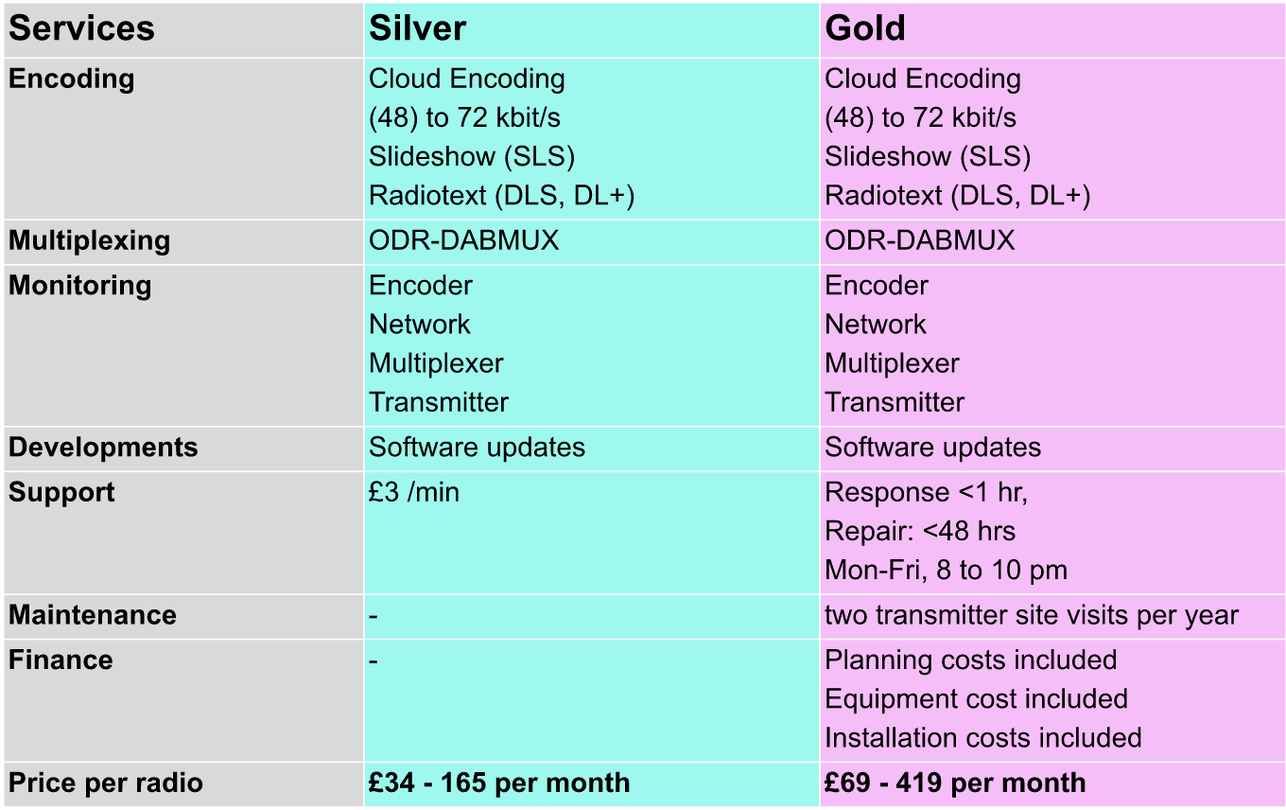 Special Features

Service Planning
Investment in state-of-the-art spectrum planning tools enables digris to produce accurate coverage plans and interference assessments.
Our colleagues based in the UK, Switzerland and France have many years of experience in spectrum engineering, are familiar with many proprietary and ITU-R propagation models and know how to deliver coverage precisely and economically whilst minimising outgoing interference.
Our expert knowledge provides our customers and partners with optimised coverage plans which they can depend upon. We also carry out system integration, installation, commissioning and provide ongoing maintainance.
DAB/+ Encoding
To suit all budgets and the most stringent sound quality requirements, we offer a choice of turnaround from primary 'lossless' studio sources and backup mp3/AAC transcoding.
We also offer industry leading 'floating point' encoding with our 'HaaS' option with AVT.
DAB/+ Ensemble Multiplexing
We provide fully-managed DAB ensemble multiplexing services compliant with ETSI standard EN 300 401.
Our comprehensive knowledge of the capabilities within the DAB standard means that we are able to provide our partners with a leading technical edge, to deliver the optimal listening experience.
We support many advanced features and also offer extended capabilities to provide valuable new revenue streams.
We have complete control of the development, lifecycle and security of our platform, which is simply not possible with solutions which rely on 3rd party 'binary only' applications and operating systems.
Digris has been operating trouble-free multiplexing services and transmitter networks since 2013.
Transmission and Distribution
Decades of combined experience and expertise in site engineering ensures many years of reliable service from painstakingly selected and exhaustively tested transmission plant.
Our transmitters are fully integrated, and offer the best power efficiency which renders other solutions (which may look cheaper on paper) as being considerably more expensive to operate over a licence term. There is now no excuse for not having the best, while also being kind to the environment at the same time - particularly when the longer term financial implications are so clear. 
We also offer routine maintainance and compliance checks as well as site attendance in the case of any emergencies that cannot be rectified remotely.
Our 'carrier grade' BGP network ensures reliable, fault-tolerant delivery with excellent peering with many access network providers. Having complete control over our routing keeps us in control of network conditions, free from intermediary impacts and as close as possible to the point of delivery.
Our intelligent platform provides in-built security and resilience that is essential when using public networks. We can provide multiple failover solutions and offer distribution over DVB-S for larger networks or in zones with poor broadband connectivity.
Monitoring
Our end-to-end monitoring provides us with up to the minute information about all active elements in the transmission path.
We proactively monitor from the encoders to the antenna, with telemetry control via SNMPv3 to our operation centres in the UK and Switzerland.
This enables us to compensate for anomalies, often before there is any impact to the service.
Small-scale DAB - Why digris?
The definition of 'Small-scale DAB' by Parliament in the Broadcasting (Radio Multiplex Services) Act 2017 (and consequently reflected in the licence areas being advertised by Ofcom) represents a step change from the 10 trials currently being operated around the Nations and Regions.
The statutory criteria stipulates that the small-scale multiplex licence areas may serve 'up to 40%' of the relevant county-sized layer, with applications being judged on (along with other things) the ability to establish the service, as well as how well the defined polygon area will be served.
This implies much larger areas to be served at 63dBuV/m for indoor coverage. With that, there will often be a requirement for a greater number of transmitters and a greater level of sophistication in the network planning, engineering and monitoring than has been demonstrated in any of the trials, or by any other organisation offering services to the small-scale tier of DAB multiplexes.
We also have a policy of providing value for money and re-investment for the benefit of our clients by incorporating continuous integration and continuous development. This is to provide our partners with the latest features and new revenue opportunities that are unavailable from any downstream offerings.
Simply put, no other UK company has the track record in planning, establishing and maintaining these multiplexes at scale. The digris group has been actively building and operating such networks since 2013, and has accrued a wealth of knowledge in what is required to build, launch and operate reliable and cost-efficient multiplexes on-time and in-budget.
If you are a community, specialist, small local radio station, or a prospective applicant - we'd really like to chat with you!
In the first instance, please send us an email: